Isolation The Last Frontier
Dr. Thomas A. McCarty, Board-Certified Audiologist
Dr. Thomas McCarty is a Board-Certified Audiologist and is the founder of Audiology Associates, Inc. As the first Doctor of Audiology in Alaska, he is leading the movement for hearing loss rehabilitation in Alaska.
Audiology Associates, Inc. is Alaska's only TPA (Tinnitus Practitioners Association) Certified practice. These designations represent Dr. McCarty's commitment to patient satisfaction, continuing education, and the expert application of current technology.
In an effort to help as many people as possible with their hearing loss, Dr. McCarty has written, "Isolation The Last Frontier," an educational book offering insight to those who suffer from hearing loss. In his book, you will learn how treating your hearing loss and tinnitus can change your life, help you maintain your independence, and reduce your risk of developing dementia.
To request a FREE copy, fill out the form below
Receive a copy at your Audiology Associates Treatment Consultation! Call 907-202-9648 or click here to schedule your appointment today!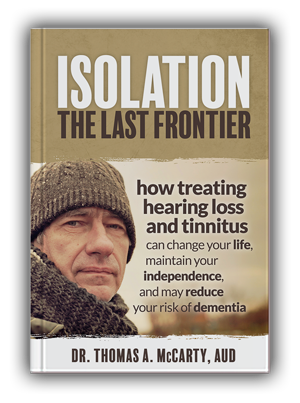 As one of the premier hearing centers in Anchorage, Alaska our Audiologist and team at Audiology Associates, Inc. also provide 5-star-rated hearing care to patients from Eagle River, Palmer & Wasilla, Alaska, and Surrounding Areas.