Elizabeth McCarty, Licensed Hearing Aid Specialist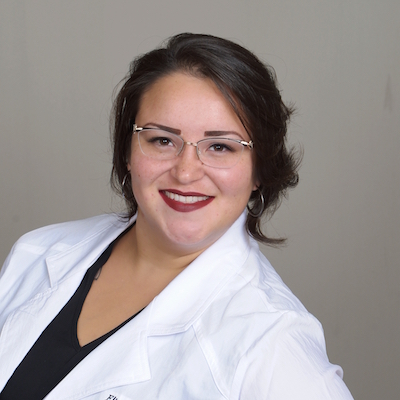 I was raised primarily here in Anchorage by Dr. Thomas and Minnie McCarty. Growing up, I spent summers closer to my native roots in my mother's village with her and family, at fish camp or berry picking; I even started school in the village before returning to continue classes here in Anchorage. I still enjoy many of our cultural ways with my own children, taking them fishing and dip netting, camping, picking berries in the fall, often much closer to home now.
Growing up in a home with an Operating Room Nurse and Audiologist, I was intrigued by helping people medically. I remember as a child, about 9, going with my dad to help test the hearing of employees who worked in high noise environments. Of course, only when school was out. I had a simple job: asking them to "Please have a seat and push the button every time you hear a beep." I took my job seriously and loved helping my dad.
After graduating from high school, I worked in a hospital as an administrative support technician, which only grew my interest in the medical field. I worked briefly as a medical assistant. Quickly I realized, I wanted to do more for my patients. I yearned to be a bigger part of the solutions offered to the concerns and issues of my patients.
I had an opportunity to train and work closely with the secretary of a company I watched be built from the ground up, a company that set out every day to help people make life changes and stay connected to the world around them. I realized that I would be stepping back into a role I wanted to move on from, but also believed deeply in the cause of this company. I researched the career opportunities within the company as I grew in ability, maturity, and skill within the audiology and hearing aid dispensing field. I felt confident that my goal to offer more to those who seek the help was in reach by accepting this position.
In 2008, I made the move and began my journey to help people hear better. With the help and guidance of my father, continued education and training, I have been able to shape a future in a career that I, not only enjoy but take great pride in. I enjoy watching people stay connected to their loved ones and helping them achieve their personal hearing health care goals. I am incredibly grateful for the opportunities my career at Audiology Associates Inc. has brought me over the last 8 years, as a hearing aid dispenser.
I was invited to present, and I spoke on hearing care for a group held at our local university, I am part of an annual humanitarian mission to the Dominican Republic and being able to assist Alaskan's with their hearing health care needs through cerumen management, hearing testing and the most current hearing, tinnitus, and protective technology and services.
Meet Licensed Hearing Aid Specialist, Elizabeth McCarty – Schedule Your Consultation Today
To benefit from Elizabeth's extensive experience, schedule your Audiology Associates Treatment Consultation today by calling 907-202-9648 or by clicking here.
Our 5-star-rated Audiology team will take the time to answer all your questions about our hearing rehabilitation treatments, our office, our flexible payment options, and anything else that you would like to know about us!
Come experience our Anchorage hearing center. You will quickly discover that we offer state-of-the-art hearing loss treatment to all our patients – and we do it with a smile. We look forward to making you the next member of our Audiology Associates, Inc. family!
As one of the premier hearing centers in Anchorage, Alaska, Dr. Thomas A. McCarty, Audiologist and our team at Audiology Associates, Inc. also provide 5-star-rated hearing care to patients from Eagle River, Palmer & Wasilla, Alaska, and Surrounding Areas.